Download "How To Solve Sudoku Puzzles" by right clicking the link below:
To download:
Right click on the link and choose "Save target as". Select a destination (such as Desktop) and click OK.
IMPORTANT!
To open, view and print the files you will need Adobe Reader, which you can download free from www.Adobe.com.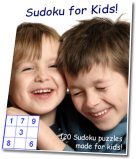 120 carefully graded,
printable sudoku puzzles
for kids, for instant
download!