Sudoku for Teachers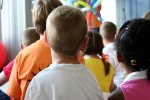 This is a special message for teachers, because I know that many of you are interested in using Sudoku puzzles in your classrooms.
If you take a moment to read the customer comments on the Feedback page you will see that many teachers have been pleased with their purchase of Sudoku for Kids.
One of the main advantages of buying the puzzles in ebook form is that you won't have to fuss with cutting appropriate puzzles out of newspapers or trying to photocopy cleanly a page from a folded paperback book! Our pages look nice and are designed to photocopy into black and white cleanly, with cheerful graphics to get the kids interested and big bold type to make things easy for them. There is lots of white space for workings out, but not too much – in fact the easier puzzles print out 3-to-a-page. And of course you can print out different pages to distribute according to the ability of your children.
Teacher Suggestions:
Over the past months we have collected suggestions from teachers about how they use the puzzles, and repeat them here in the hope that they will inspire you. Suggestions have included using Sudoku for Kids in the following ways:
As a whole class activity, with a white board or projector at the front of the class

As a time filler for odd moments during the day

As a "reward" when a child finishes work early, especially in maths lessons

At the beginning of the day, placed on the desk for children to do when they come into the classroom and settle down

As a weekend activity or fun homework

For rainy-day indoor playtimes

As a special birthday activity

And even as a sponsored charity challenge
Remember, we are finding that children as young as 5 can enjoy the puzzles while at the same time developing their logical thinking, extending their concentration, and building their confidence. Buy Sudoku for Kids now and you could be printing off puzzles for your classroom within minutes – and we know your kids will enjoy them!